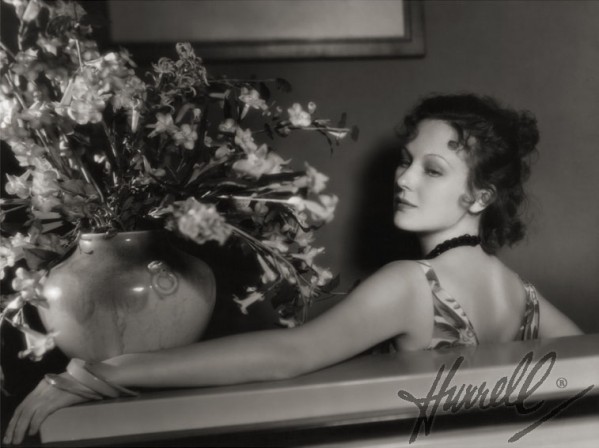 Here we see a beautiful portrait of silent screen star, Dorothy Jordan. Dorothy Jordan starred opposite Ramon Novarro in some of the most popular MGM films of the silent era.  At one time she was a huge star.  But with the advent of 'talking pictures' she did not make the transition.  However, she remained one of the most beloved stars on the MGM lot.  She was evidently as beautiful 'inside' as she was outside.  She was a good person.  So, MGM was constantly trying to keep her face before the public, hoping that she would once again be accepted in starring roles.  George Hurrell told me that, next to Joan Crawford, he probably shot more film on Dorothy Jordan than any other early MGM star.
Dorothy Jordan did not make the transition to sound film.  However she did have a very happy life.  She married Merian C. Cooper, who was the biggest movie producer of his day. He produced some of the biggest movies of the 1930's, including KING KONG, and other huge hits in the 1940's and 1950's.  Steven Speilberg is the Merian C. Cooper of our time.
In the late 1950's Dorothy Jordan decided to come out of retirement to make a film so that her children could see that she was an actress and film star.  The year was 1956 – a time before VCR's and  DVD's.  On TV they were not showing silent films, and in theaters they were not showing silent films either.  So her children had no way to see her earlier work. Her husband, who had previously produced several of the John Wayne movies, was about to make THE SEARCHERS with him.  Dorothy was cast as John Wayne's mother in this film.  Perhaps you'll remember the scene when she first appears.  The screen is entirely black,…..a door opens and we see the desert vista ahead… and a woman walks out of the door onto the porch, just as John Wayne rides up on his horse.  That woman is Dorothy Jordan.  That particular scene is considered one of the greatest camera shots in cinema history, and is frequently shown during montage sequence of the most memorable screen moments during the Academy Awards shows.